Up

Wright
Genealogy

(You are here.)

Down




Need to
find your
bearings?
Try these
navigation aids:
If this is your first
visit, please stop by:
Something to share?
Please:


Available in Française, Español, Português, Deutsch, Россию, 中文,
日本,
and others.

ishop Milton Wright was a dedicated genealogist who boasted that he could trace his ancestry back eleven generations to "his great-grandfather's great grandfather," Sir John Wright, Lord of Kelvedon Hall in Essex County, England, born 1485, died 1551. And the Bishop had cause to be proud. In the days before the Internet and the massive online collections of family records that are available to us in the twenty-first century, genealogical research depended on notes kept in a family Bible, hints from family letters and oral traditions, and correspondence with far-away clerics and government officials who often had better things to do than answer a query about a long-dead parishioner or citizen. For Milton to trace his family back through four centuries and across two continents was a singular accomplishment in his day.
Today we know a great deal more about the Wright lineage and ancestry; more than the Bishop could ever have imagined. Because the Internet provides a way for far-flung people to instantly share information, genealogical and biographical information accumulates quickly. In Milton's day there was a trickle of information, today there is a flood. The problem becomes not whether we can find information about an ancestor, but whether we can trust it. The river of digital information that flows around us is full of tall tales, half-truths, and downright lies. All information must be carefully winnowed to separate the facts from the fictions. Consequently, genealogy today is not just a quest but a science. Family histories evolve as new information is examined and proven, sometimes replacing older and less reliable traditions. We don't just know more than Bishop Milton Wright, we tell the story of the Wright Family differently than he would have told it.
The Wright family descended from the Normans who settled in Normandy in northern France before 1000 C.E. These peoples were Saxon Vikings that had originally come from northern Germany and the Jutland peninsula – "Norman" was Old French for "Norse men." After settling in France, these Saxons invaded the British Isles and set up small kingdoms such as Sussex, Wessex, and Essex. These medieval kingdoms united in 924 and called themselves "England."
In 1066, the English throne passed to Harold Godwinson of Wessex who became King Harold II. William, Duke of Normandy claimed that the throne had been promised to him and gathered an army to invade England. This army was equipped in part by John Wryta of Bayeux, a renowned armorer and skilled craftsman in metal and wood. The army also included John's sons – John, Richard, William, Henry, and Thomas Wryta. William defeated Harold and became King William I (better remembered as William the Conqueror). For their part in the conquest, the Wrtya brothers were given lands in the old Saxon kingdoms of Norfolk, Essex and Sussex which, under Norman rule, became English counties.
We don't know which of the Wryta brothers was the ancestor of Wilbur and Orville Wright. We do know however, that the Wright clan prospered in England. The surname morphed from Wryta to Wryte to Wrighte and finally Wright as the family grew and spread out over the British Isles. But hundreds of years later, the Wrights of Essex County were certain that they were Norman in origin and had descended from the Wryta family of Bayeux.

The first person we can say with any certainty was a direct ancestor of the Wright brothers was John Wrighte, who was born in Lincoln in Lincolnshire County, England in 1221. He did not stay in northern England for long, however -- the records show he died in Nazeing in Essex County. With the exception of his son Robert William and his grandson John I., who spent time in northern England, most of his progeny resided in Essex and London County towns and villages such as Upminster, Dagenham, White Notely, and Kelvedon Hatch. They were members of the upper (Norman) class; many wore the titles of Lord, Lady, Sir, and even Countess. Two of them served as clerics in the Catholic Church -- there was no Church of England or any other Protestant sect at this time.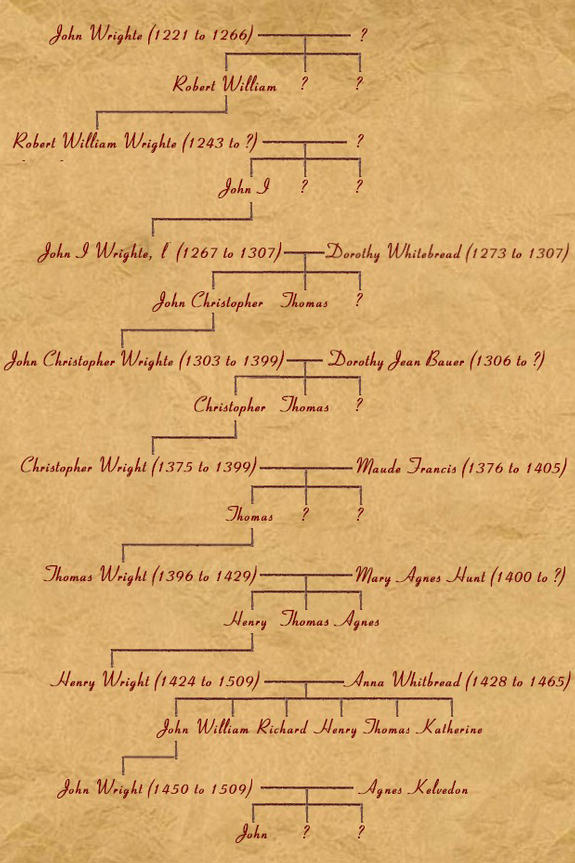 Reverend Sir John Wright's son, John Wright, apparently did King Henry VIII a solid, supporting his request to the Pope to have his marriage to Catherine of Aragon annulled. Then when the Pope refused, he supported the King when Henry broke from Rome and installed himself as the head of the new protestant Church of England. As a result, Henry knighted John, gave him a title, and generally made life sweet for him. John was able to build a huge manor house, Kelvedon Hall, near Kelvedon Hatch in Essex County and purchased over 2000 acres nearby to create a large estate. His sons and grandsons were part the landed English gentry, heavily involved in politics, and very protestant.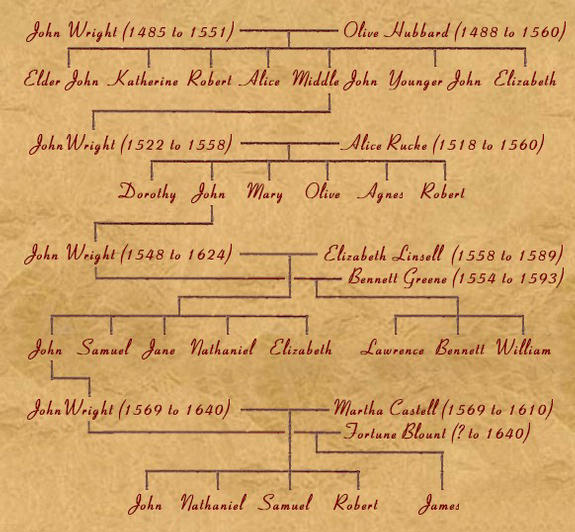 Both John Wright, Esq. and his son Samuel were Puritans at a time when things were tough for Puritans in England. Puritanism was a quest for further reform in the Church of England. It began shortly after Elizabeth I came to the English throne in 1558 and was tolerated from many years, then openly despised and repressed when Charles I became king in 1625. Puritans began to flee England and Samuel joined what became known as the "Great Migration." He sailed to America with 20,000 other like-minded souls who hoped to establish a "nation of saints" in the New World. Samuel settled in Springfield, Massachusetts and the Wright family remained in that general area of New England until after the American Revolution.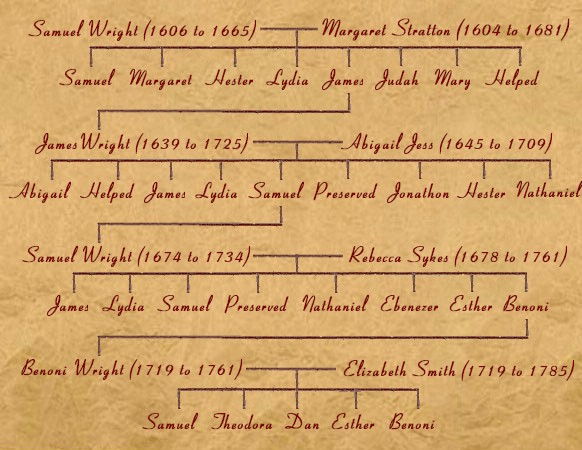 The American Revolutionary War opened up regions to the west of the American colonies to settlement and development. Benoni's son Dan, a soldier in the Revolution, decided to take advantage of this turn of events and moved his family to the Northwest Territory, where his sons and grandsons pioneered the new states of Ohio and Indiana.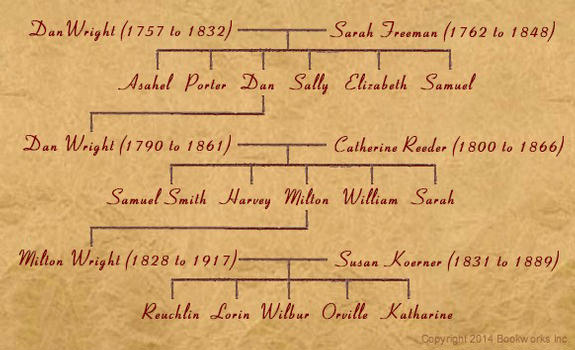 For more biographical information about any of these Wright ancestors, click on their name. If you would like to read the complete history of the Wright family so far as it is known, we have collected these biographies into a printer-friendly PDF file, A Genealogical History of the Wright Family.


The known Wright family lineage, from John Wryta (circa 1050 CE) to Wilbur, Orville and their siblings.