Up
Pushing the
Envelope

(You are here.)



Need to
find your
bearings?
Try these
navigation aids:
If this is your first
visit, please stop by:
Something to share?
Please:

Available in Française, Español, Português, Deutsch, Россию, 中文,
日本,
and others.

n France, the news of Orville's accident hit Wilbur like a ton of bricks. For a short time, it seemed to paralyze him. He canceled all flights for a week and pedaled his bicycle to Le Mans where he could be closer to a telegraph as he waited for further details of Orville's accident.
Only when he was told that Orville was out of danger did Wilbur begin to fly again. And he flew higher, farther, and faster than he ever had before. It was up to him now to prove to the World that the Wrights were not "bleuffers," that they had indeed discovered the secret of flight.
No more namby-pamby two-minute flights. Wilbur began to push himself and his airplane, shattering records and collecting prizes.
September 21, 1908 — A new record for distance and duration, $1000 from the Aero Club de France.
October 7, 1908 — First flight with a woman passenger, Mrs. Hart O. Berg.
October 10, 1908 — Distance and duration record for flight with a passenger.
November 18, 1908 — Set an altitude record of 90 meters, collected 1000 francs from the Aero Club de Saitte.
November 23, 1908 — 2500 francs from the Aero Club de France for yet another altitude record.
There were also testimonial dinners, gold medals, and commendations. When Wilbur happened to visit the French Senate on a sight-seeing jaunt, the Senators stopped their deliberations and gave him a standing ovation.
As 1908 drew to a close, Wilbur planned to capture the Coupe de Michelin, an impressive trophy and a 20,000 franc award for the longest flight of the year. Actually, Wilbur had already won the trophy — he had set an endurance record several times over. But he wanted to secure it with one last, best flight. On December 31, 1908 he flew through a freezing mist for as long as he could stand it — 2 hours, 18 minutes, and 33 seconds.

Wilbur flying over Le Mans.


Wilbur and a passenger on the ground at Le Mans.


A close up of Wilbur's cockpit. Compare his controls to those in the 1908 Military Flyer on the previous page -- they're not the same! Orville and Wilbur developed two different sets of controls while they were apart.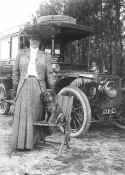 Mrs. Hart O. Berg, the first woman to fly in an airplane. The dog is "Flyer," a stray that Wilbur adopted while in France.


At the end of 1908, Wilbur had Europe at his feet, as this political cartoon insinuates.