Up

Milton REmembers

(You are here.)



Need to
find your
bearings?
Try these
navigation aids:
If this is your first
visit, please stop by:
Something to share?
Please:

Available in Française, Español, Português, Deutsch, Россию, 中文,
日本,
and others.

his was excerpted from a newspaper article, "Wilbur Wright Born in Henry Co.," New Castle (Indiana) Daily Times, June 11, 1909. It was written by Milton Wright (apparently at the request of friends) while Wilbur and Orville Wright were enjoying wide acclaim in America and Europe.



"...April 13, 1865, the family moved to a little country home near Millville, Henry county. Elias Bowman, Henry Shults, Jacob Kesler, Phillip Heddrick and Cornelius Horning were their neighbors.
"It was at this nice little home, two and a half miles north-east of Millville, that Wilbur Wright was born, April 16, 1867. As the family removed to Hartsville in September, 1868, this son's life in his natal home was brief. Early incidents relating to him, though interesting to the family, are not important enough to justify publication.
"Wilbur was a child of good size, strength and activity, and walked when about eight months old. At fifteen months, when turned into a room, he seemed to see all the mischief available in it at a glance, and always found the greatest first. Perhaps there is now nothing very remarkable in the size or shape of his head, but then it was so high that a hat becoming him was hard to find. Up to his nineteenth year, he was distinguished for health, strength and activity. He excelled in skating, making and flying kites, and in gymnastic exercises on a turning pole. He did not attend school till he was about eight years old, and had already been taught by his father to read. But from the first, he had facility in learning, and close application, and as these in later years did not forsake him, he ever excelled as a student. He pursued more than a full course in High School, and closed at Dayton, Ohio but could not graduate there because three of his years in the High School course had been pursued elsewhere (Richmond, Indiana). His parents thought of sending him to Yale College, but in playing a game on skates, at the Soldier's Home, the bat of a young man flew out of his hand and struck Wilbur, and some two or three weeks later palpitation of the heart developed, and for some years he was unable to pursue a student's life, though his much reading and study in that time perhaps nearly equaled the advantages of a classical education.
"His mother being a declining, rather than a suffering, invalid he devoted himself to taking all care of her, and watching and serving her with a faithfulness and tenderness that can not but shed happiness on him in life, and comfort him in his last moments. Such devotion of a son has been rarely equaled. And the mother and son were fully able to appreciate each other. Her life was probably lengthened at least two years by his skill and assiduity. He all these years used his spare time to read and study, and his knowledge of ancient and modern history, of current events and literature, of ethics and science was only limited by the capacity of his mind and his extraordinary memory,. He became a clear writer, and a ready extempore speaker, almost wholly without practice in the latter.
"His brother Orville Wright was born in Dayton, Ohio, August 19, 1871, and never lived nearer to his brother's native home than Richmond. Orville was the fifth son and sixth child (as Wilbur was the third), a pair of twins that died young intervening. His education beginning at Cedar Rapids, Iowa, when his father was bishop of West Mississippi District, was pursued in 1881-1884 in Richmond, Ind. and was closed in Dayton, Ohio, where he pursued three years in the high school, and then, at about seventeen years of age ran into job printing and publishing a little advertising paper, in which Wilbur joined him some years later. He began typesetting earlier on a small scale in a kitchen with a very small outfit and worked on till, untaught, he became a rapid and correct compositor, an accurate proofreader, and a fine printer. He always worked for himself, and in his earlier printing, his presses were invented and made by Wilbur, who was a natural workman in wood, iron, or any other material, but those presses were mostly made of wood, and were a curiosity to many who came to examine them. Orville in later years fully equaled his brother in invention, and in workmanship. In childhood Orville planned a turning lathe with a grindstone for the main wheel, and Wilbur constructed it. Wilbur was the most fruitful in inventions, but Orville had as many valuable ones as his brother.
"When about seven years old, living in Cedar Rapids, Orville got up an army of boys, fifteen or twenty, and was chosen general. His enthusiasm always made him a leader among boys, and happily his leadership was never toward vice. He loved to tell his mother of his army and its progress; and, as he did so, placing his hands on the seat of a chair, he would punctuate his narrative by his heels flying into the air. It is a wonder that overenthusiastic political meetings have never learned that method of emphasis and punctuation; for it is the natural language of exhilaration. At Cedar Rapids schools Orville was generally selected as one of the readers when visitors came in. On one occasion he was called out to read. Unlike his brother, whom fright could not rattle, his timidity got the better of him, and he held his book wrong side up, but he read from memory with triumphant success. He was also called out at that early age to show the pupils proficiency in music. There were three in the trio of these singers. As Orville said, he was chosen for his good voice, another for the volume of sound, and the third 'to keep it going.'
"But there are too many incidents of school days to trifle with our readers. I might add that father, brothers and sister have never opposed them in their inventions and aviations, but have encouraged them, and have taken a lively interest in their progress and success. Their father was an eye witness of their first long flights (21 and 24 miles), in 1905." -- Milton Wright


Bishop Milton right in 1910.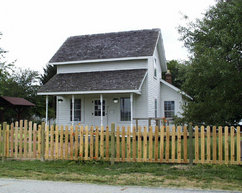 The tiny house in which Wilbur was born is now preserved as a museum near Millville, IN. Click HERE for a map.