Up

Moving On,
Moving Back

(You are here.)



Need to
find your
bearings?
Try these
navigation aids:
If this is your first
visit, please stop by:
Something to share?
Please:

Available in Française, Español, Português, Deutsch, Россию, 中文,
日本,
and others.

rville was in the hospital at Fort Meyer for seven weeks. Charley Taylor and Charley Furnas packed up and went home to Dayton — and Charley Furnas apparently left the employ of the Wright Brothers then and there. There are several accounts as to why he did so. One maintains that he had thrown in with the Wrights only to learn to fly, and the Fort Meyer accident dissuaded him. Another tells that his father, Tanzy Furnas, was horrified by reports of the accident and put pressure on Charley to get out of the airplane business before he was killed, too. Tanzy had, in fact, expressed his displeasure to Orville for taking Charley aloft. Both versions may have some validity — certainly, if Charley and his family were unaware of the dangers of early aviation, the Fort Meyer accident brought the point home. In fact, Charley Taylor — Furnas' comrade in arms — had been slated to fly with Orville on the day of the accident, but had been bumped by Selfridge. Both men undoubtedly felt the hot breath of the Angel of Death at that moment. And if Charley's original ambitions were to become a pilot, later events would prove his decision not to pursue this career was a wise one. The Wrights trained nine men for their first exhibition team in 1910. By 1912, six had died in crashes.
But Charley could have stayed on as a mechanic without ever learning to fly. Probably, his decision to leave was more for lack of work than any other reason. With the big push to build the Military Flyer over, Charley Taylor could easily keep up with the bicycle business himself.
Orville went straight from Fort Meyer to join his brother Wilbur in Europe, and was there for the better part of a year before the two of them came back to manufacture more airplanes. By that time, Charley would have moved on to another job from economic necessity.
Shortly after his aeronautical adventures, Charley returned to West Milton, Ohio. He became an automobile mechanic, operating the Furnas Garage on the corner of what is now Washington Street and Route 571. On June 3, 1913, he married Letitia Washington, and the couple lived at 223 North Miami Street, not far from his parents' home. They had no children.
Charley had a reputation as a crackerjack mechanic. According to one former customer, he could"...fix anything in nothing flat." However, he was known to like to take a drink or two. Customers reported that he would leave the shop for this or that and apparently "forget" to come back. In the late teens or early twenties, he bought a vaudeville theater, "Pythian Hall" in the old opera house at 103 N. Miami Street, and began to show silent movies. A little later, he also operated the Buzz Theater at 15 S. Miami, another movie house. This was the time of the Great Experiment, Prohibition, and the Buzz Theater was the site of West Milton's "speakeasy." (There's still a peephole in one of the upstairs doors.) It's probably a safe bet that Charley either ran the speakeasy or was on the board of directors. Whatever his involvement with the illegal alcohol trade of the Roaring Twenties, he never lost his fascination for technological breakthroughs. In 1929, Charley installed a "talking machine" in the Buzz Theater to show talkies.

Charley and his wife Letitia lived on the left side of this double in West Milton, Ohio.


An ad for a tire sale at the Furnas Garage.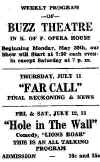 An ad for Charley's Buzz Theater. "Hole in the Wall" was the first talkie ever shown in Charley's home town.