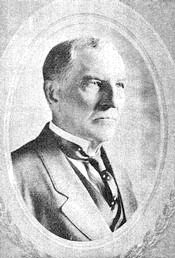 In the 1870s Reverend Enoch Dye Prouty (left), a Baptist preacher of Biscobel, Wisconsin, wanted to publish a temperance newspaper but could not a afford a large printing press. Undeterred, the mechanically-inclined preacher built his own "rolling cylinder" press and began to issue the Temperance Watchman. Prouty patented his press in 1878 (Patent No. 206,826) and the W.G. Walker Company of Madison Wisconsin began to manufacture it. The speed, efficiency, and economy of the design made it popular among small country newspapers; hundreds of "Prouty Power Printing Presses" were sold and used well into the twentieth century. Owing to the unique mechanism that moved the cylinder back and forth, it earned the nickname of the "Grasshopper" press.
Prouty also shared the plans for the home-made version of his Grasshopper press with churches, organizations, and individuals who faced the same problem he had once wrestled with – in need of a large press but too poor to buy one. These plans were well-known among printers when Orville and Wilbur built their large press in 1889. It's logical to assume that they would have at least consulted them before designing their own press, and equally logical to assume that, given their penchant for invention, would have made their own improvements.

A Prouty "Grasshopper" press in use at a country newspaper.
Wright Brothers Printing Press