We tell the story of the Wright brothers and the invention of the airplane to encourage young people to treasure their dreams and do the work necessary to achieve them. And to make this story come alive, we recreate the events of early aviation. To learn more about the WBAC and the thrilling things we do, click to download our PIREP.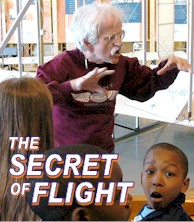 The WBAC tours schools across the United States with a full-size Wright aircraft, a flight simulator, and four presentations designed around the national scholastic benchmarks in science, technology, math, and social studies. A great way to augment your STEM education initiatives. See the Secret of Flight School Tour.



While you're looking around, we have a selection of tunes that were popular during the first days of aviation, performed by Sue Keller, courtesy the Ragtime Press:
Solace


Scott Joplin 1909
Available in Française, Español, Português, Deutsch, Россию, 中文,
日本,
and other languages, provided your browser has an enabled Flash plug-in.

elcome to the Wright Brothers Aeroplane Company, a virtual museum of pioneer aviation. If this is your first visit, read About the Museum to get your bearings and consult our Site Map for help in navigating this web site. If you need specific information on the Wright brothers or pioneer aviation, the Museum Index and Search the Museum can help you find it.
Our online exhibits are organized into several sections: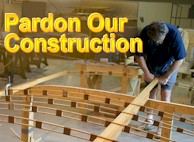 As you can plainly tell, we're revamping the WBAC web site to make it more informative, easier to navigate, and more compatible with the newest browsers. Pages that are grayed out in navigation lists have been taken offline so we can revise them. We ask your patience while we're working; we'll get the info back online as soon as we can.





Oftentimes kind and generous people do wonderful things for us to keep our educational programs alive and vibrant. At this juncture, we're grateful to:
| | |
| --- | --- |
| | Jeff Walther and Don Wright, for kindly providing a roof over our aircraft while we look for a new home. (See above.) |



If you have a question about the Wright brothers or pioneer aviation, or have something you'd like to share, please Contact Us.

Undecided where to look first? May we suggest:
The Case for Gustave Whitehead – Updated Update
On 8 March 2013, Jane's All the World's Aircraft caused an uproar when editor Paul Jackson endorsed a story that Connecticut resident Gustave Whitehead flew two years before the Wright brothers. Now Jackson and Jane's seem to be slinking away from the controversy they created.
Just Whose Conspiracy Is This?
The Wright/Smithsonian Agreement, which governs how the original Wright Flyer is displayed, is often used by supporters of Gustave Whitehead as evidence of a conspiracy to deny Whitehead his place in history. But when it was recently discovered that access to Whitehead's papers are restricted to supporters only, the conspiracy seemed to lie elsewhere.
Katharine Wright
NEW! An expanded biography of the "third Wright brother," Katharine Wright, explaining the pivotal role she played in the demonstration and sales of the first commercial Wright aircraft, and the acceptance of her brothers as the inventors of the airplane. Includes a 1909 magazine article on Katharine, The American Girl Whom All Europe is Watching
The Real McCoy
REWORKED and EXPANDED! Dozens of photos show the smallest details of the world's first practical airplane, the 1905 Wright Flyer. Join us in the "pit" of Wright Hall at Carillon Park with this original Wright airplane.
Wright Airplanes
Updated and expanded! The only place on the web where you can see ALL 19 types of aircraft that the Wright brothers produced!
The Wright Timeline
An illustrated timeline that not only shows the history of the Wright brothers, but also the important scientific, political, and cultural events that loomed large in their lives.
UFOs – Unbelievable Flying Objects
Over 60 of the most unusual pioneer aircraft that never flew. Proof positive that if God had intended for man to fly, he would have given him some common sense.
Everything a Pilot Could Want
One of the very first mail-order catalogues for aviation-related doohickeys. You think Sporty's has cool stuff...